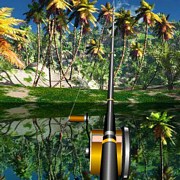 Lake Fishing Jungle Day
Date Added:
2017-02-23
Genres :
Realistic
Description:
Go fishing in a mysterious backwater lake of the
Amazon River
. You will catch some strange and huge exotic fish such as Arapaimi, SnakeHead, Tiger Catfish, Alligator Gar, Thai Mahseer and Mekong Catfish! 9 lures to choose from that catch different fish species. In the area you can move to 5 different location spots, some are better than others so cast carefully. This spot is so beautiful and abundant with nature sounds that will help relax your mind after a stressful day! Try to score on the leader board if you get into it!
Instruction:
Bigger fish are harder to catch, be sure to watch your gauge! If it turns red be sure to stop reeling in.
Game Controls:
Use your Mouse to select locations, cast and reel in fish.
Lake Fishing: Jungle Day Walkthrough Youtube Video: