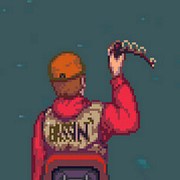 Super Black Bass
Date Added:
2017-02-24
Genres :
Bass
Description:
The popular SNES classic game created by HotB known as Super Black Bass. A very addicting and challenging fishing game that will have you searching the best spots for bass. when driving the boat, I have found is areas with cover like rocks, weeds and timber is where the fish like to hang out. Make sure you park your boat around those areas and try a variety of lures. Sometimes the fish just wont bite! Other times you will hook on a few in a row. My personal favorite lure that gives me the most luck is the green frog.
Instruction:
Drive around, choose areas wisely. Use your fish finder for help. Have patience because this game is hard! Try to stay in the Top Bass Tournament rankings so you can make it to the championship at Bluestone Lake.
Game Controls:
Enter Key = START Button. Arrow Keys = MOVE. Space Bar = SELECT. A, S, Z, X, D, C Keys = Action Play Keys. F5/F8 = Save/Load.
Super Black Bass Walkthrough Youtube Video: