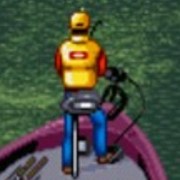 Mark Davis - The Fishing Master
Date Added:
2017-02-27
Genres :
Bass
Description:
A very unknown fishing game that came out on the SNES, created by Natsume a Japanese game developer in 1996. I actually like this game a lot. It has some awesome features like the ability to change weather conditions and the time of day . The upgrading of fishing gear and shop is also cute compared to Western games that came out around the same time. I think the neatest thing is when you cast you can see your boat and underwater view. I just a cool must try one if you like these sort of classics. Enjoy!
Instruction:
Try all kinds of different lures and fish different areas from the onscreen map. Change it up a lot until you are hooking up on fish!
Game Controls:
Enter Key = START Button. Arrow Keys = MOVE. Space Bar = SELECT. A, S, Z, X, D, C Keys = Action Play Keys. F5/F8 = Save/Load.
Mark Davis The Fishing Master Walkthrough Youtube Video: