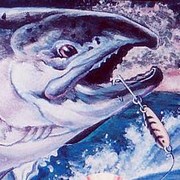 King Salmon - The Big Catch
Date Added:
2017-02-27
Genres :
Realistic
Description:
This is a classic unknown gem that was originally released on the Sega Genesis in 1992 by Hot B and SEGA. What made this game so special it's one of a kind! No other game targets Salmon species as its main fish. Travel in a boat trolling your favorite lure. Equip your gear such as rods, reels, lures and much more. Catch 4 types of fish including, King, Pink and Silver Salmon along with Dogfish. Your goal is to place 1st place in this fierce competition. Try your best and have fighting these fish!
Instruction:
Watch the review walkthrough below to gain tips on how to play this game and see how to catch fish!
Game Controls:
Enter Key = START Button . Arrow Keys = MOVE. Space Bar = SELECT. A, S, Z, X, D, C Keys = Action Play Keys. F5/F8 Keys = Save/Load game.
King Salmon Walkthrough Youtube Video: