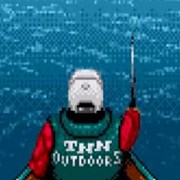 TNN Outdoor Bass Tournament 96
Date Added:
2017-02-23
Genres :
Bass
Description:
TNN Outdoor Bass Tournament 96 is a classic game that features all kinds of awesome lakes and rivers to fish at. You can buy all your tackle such as Line, Rods, Lures, Reels and more. If you can win the tournament earnings can be used to buy upgrade and advance to other lakes. Largemouth bass are the target species of fish but you will also be able to catch, Pike, Catfish, Trout and more!
Instruction:
Use your fish finder and zone in a fish. Find what bait fish are biting on and stick to that one. TIP: Before fishing you need to equip your lure, Line, Rod and Reel. Catch as many fish as possible before time runs out!
Game Controls:
Enter Key = START Button . Arrow Keys = MOVE. Space Bar = SELECT. A, S, Z, X, D, C Keys = Action Play Keys. F5/F8 Keys = Save/Load game.
TNN Outdoor bass tournament 96 Walkthrough Youtube Video: