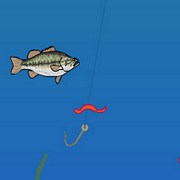 Little Bass Survival
Date Added:
2017-02-22
Genres :
Bass
Description:
A lonely little bass is just trying to survive in this game. Go through an endless level. Try to eat as many worms as you can to keep your hunger and health up. These fish are out to kill you. You will encounter giant Blue Catfish, Northern Pike and Carp. The further you get the harder it will get to stay alive!
Instruction:
Try to stay alive as long as you can to achieve the highest score possible. Avoid other fish and hooks. Keep eating worms.
Game Controls:
Use your mouse to move.
Little Bass Survival Walkthrough Youtube Video: