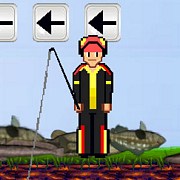 Bass Fishing Hero
Date Added:
2017-02-22
Genres :
Bass
Description:
This is what happens when Guitar Hero meets fishing in a game, you get Bass Fishing Hero lol. A really crazy score game that features 4 different species of bass that are from Fresh and saltwater. You have to press keys very fast if you want a high score. It's pretty corny and funny! not bad as a time killer though!
Instruction:
Be fast at tapping the arrow keys. Watch the bass fly up. Achieve a high score and submit it!
Game Controls:
Use your Arrow Keys!
Bass Fishing Hero Walkthrough Youtube Video: