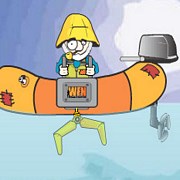 Fish Claw 3001
Date Added:
2017-02-22
Genres :
Kids
Description:
This old geezer in a broken down raft is out to go fishing. He wont leave until his bucket is full! Every level will have certain amount the old fisherman needs to catch in order to pass the level.move from side to side and unleash your claw to catch fish. Try to fill the bucket!
Instruction:
Watch your goal for the level and meet it, it will start out at 20 pounds. Be fast when moving and fishing!
Game Controls:
Use arrow keys to move from side to side. Use Space Bar to launch your claw!