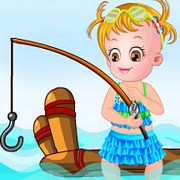 Baby Hazel Fishing Day
Date Added:
2017-02-22
Genres :
Kids
Description:
A fishing day with Baby Hazel is always fun and cute! A great game for girls to play! She is out to explore the ocean and has set some practical goals for herself. You will encounter trash that you want to avoid and other see animals such as fish, turtles, squids and more. She wants to pass all the levels! Can you help her out?
Instruction:
Catch as many fish as you can before time runs out and catch the required goal to pass the level. Avoid catching boots and other garbage, they will way down your boat and eventually sink it!
Game Controls:
Use your mouse to move. Mouse Click to drop line down!
Baby Hazel Fishing Day Walkthrough Youtube Video: