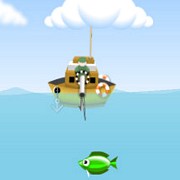 Lord Of The Harpoon
Date Added:
2017-02-27
Genres :
Kids
Description:
Colorful game featuring a cute little boat armed with a wicked harpoon that is ready to catch fish! The animations are just so adorable in this game and it provides a challenge! When you miss a fish there is a small delay, so it's not easy at all. Controls are great, simple but very well balanced is all I can say!
Instruction:
Catch as many fish with your harpoon as you can before time runs out. Be sure to watch out for the mother ship that comes around and tries to smash you! You will make it to the next level if you catch enough. Focus hard and aim good!
Game Controls:
Use Your Arrow Keys to move! Space Bar to fire Harpoon.
Lord Of The Harpoon Walkthrough Youtube Video: