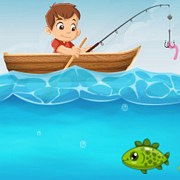 Fishing Frenzy
Date Added:
2017-02-27
Genres :
Kids
Description:
Probably the only good HTML5 fishing game available at the moment. Has great animations and gameplay. Play as a kid fishing on a boat in the ocean. Armed with bombs, you can blow up fish for extra score, but you only get a few of those to play with! Your source for score will come from catching fish with your fishing pole! You are timed so be fast!
Instruction:
Try to catch or blow up enough fish to reach your target goal to advance to the nest level! Avoid sharks!!!
Game Controls:
Use Arrow Keys to move boat. Space bar to drop bombs and Down Arrow Key to drop fishing line.