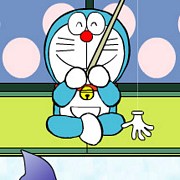 Doraemon Fishing
Date Added:
2017-02-22
Genres :
Kids
Description:
Doraemon the fun Japanese cat character is fishing in a tank at Nobita's house! This tank is very bizarre t has all kinds of weird things in it such as Boots, Sharks, Space Ships and more. Drop your glove down and try to aim for fish! Whatever you do avoid the shark that wants to end your fishing session. Good Luck!
Instruction:
In the top left corner it tells you how many of each fish you need to catch to pass the level. Try to catch those. Avoid everything else in the tank!
Game Controls:
Use your mouse to aim glove and drop.
Doraemon Fishing Walkthrough Youtube Video: