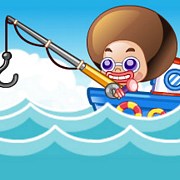 Fishing Master
Date Added:
2017-02-24
Genres :
Kids
Description:
Play as a fishing kid in a boat. He has funny puffy hair but knows how to fish, he is a pro. This game features very colorful art and fun easy gameplay great for kids of all ages. Catch all kinds of sea life including Sea Horses, Fish, Whales and even turtles! Enjoy!
Instruction:
Catch fish fast because you are timed. If you manage to catch the required 15 fish you will make it to the next level. Levels get harder and harder so stay focused. Avoid Catching trash because it will sink your boat!
Game Controls:
Use Your mouse to move and drop hook down!
Fishing Master Walkthrough Youtube Video: