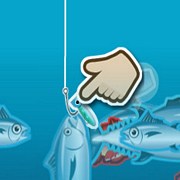 Sushi Fishing
Date Added:
2017-02-22
Genres :
Kids
Description:
Its time to make some Sushi for high score! Only problem is you need to catch Tuna fish first. While ona boat fishing in the ocean using all sorts of baits try to catch as many Tuna as you can. The timer might be a problem so catch fast and get these Sushi's made!
Instruction:
Catch as many fish as you can and try to reach your score goal. Collect bonus food items for extra score. When dropping bait make sure you are giving the tuna baits they are craving! Avoid catching rock fish or its game over!
Game Controls:
Use your mouse to select and drop bait!
Sushi Fishing Walkthrough Youtube Video: