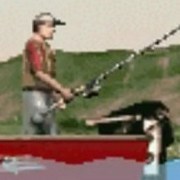 Rapala Pro Fishing
Date Added:
2017-02-24
Genres :
Bass
Description:
A classic game that was originally released on the GBA handheld system. Created by Rapala fishing lure company this game features all there signature lures available to use in the game. You will find lures such as Rattle Traps, Crank Baits, Plastic worms, Swim Baits and much more. It has many fish species to catch but Largemouth, Smallmouth, Spotted, White and Striped Bass are the games main focus. Features full fledged levels. With lots of gameplay variety. These fish are aggressive as long as you are fishing with the lure they want to eat! Real lakes and rivers in the USA are in here! Have fun.
Instruction:
Be sure to switch lures often if fishing gets slow and you are not catching anything. Watch your gauge when catching fish, keep it away from the red.
Game Controls:
Enter Key = START Button. Arrow Keys = MOVE. Space Bar = SELECT. Z, X, D, C Keys = Action Play Keys. F5/F8 = Save/Load game.
Rapala Pro Fishing Walkthrough Youtube Video: