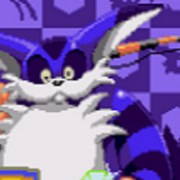 Big's Fishing Derby
Date Added:
2017-02-23
Genres :
Kids
Description:
Sonic The Hedgehog character Big The Cat is doing what he loves most in this game, Fishing lol. There are two modes to play single player which is just fishing collecting rings and catching frog to pass the level or Competition which will have you fish against Dr.Robotnik. A pretty neat one to play if you like the sonic series or a challenge.
Instruction:
Catch fish for rings or power ups. Try to catch the frog to earn an emerald and pass the level.
Game Controls:
Enter Key = START Button . Arrow Keys = MOVE Bait.
Bigs Fishing Derby Walkthrough Youtube Video: