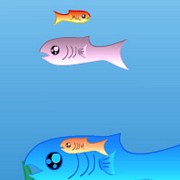 Fishy
Date Added:
2017-02-23
Genres :
Kids
Description:
Everyone loves the classic flash game known as Fishy! Its a sad day at the pond, this little fish is just trying to survive! Bigger fish are trying to eat him, so he must evolve and grow bigger also by eating smaller fish. How long can you last? Can you make fishy the biggest fish in the pond?
Instruction:
Avoid all larger fish while eating smaller fish to grow larger! Try to be the last fish standing!
Game Controls:
Use Arrow Keys to move.
Fishy Walkthrough Youtube Video: