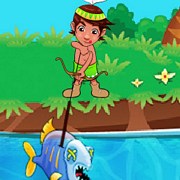 Piranha Hunter
Date Added:
2017-02-27
Genres :
Kids
Description:
This is a great little game for kids! It features 36 levels to play through. Play as an American Indian boy that is trying to save his girlfriend, who is trapped on the other side of the hill after the bridge has collapsed. He must earn enough money to build a new bridge and save her. Also these Piranha are pesky and need to be out of the lake anyways!
Instruction:
Shoot as many piranha as you can without missing a shot. catch enough to pass the level! After each level you can purchase upgrades to make your fishing easier.
Game Controls:
Mouse to aim and shoot.
Piranha Hunter Walkthrough Youtube Video: Coming Soon!