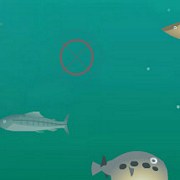 SpearFishing
Date Added:
2017-02-22
Genres :
Kids
Description:
Explore the deep waters and go SpearFishing in this fun game. Out in the middle of the deep blue ocean fish, sharks and other sea creatures are all around you. Armed with a spear gun, more you shoot the higher your score will be and it will enable you to advance to the next level! These fish are very fast , so you need to be even faster.
Instruction:
Time is running out. Aim good and shoot as fast as you can to reach your goal to pass the level! Tip: rare fish give out even higher score!
Game Controls:
Use your mouse to aim and shoot.
Spearfishing Walkthrough Youtube Video: